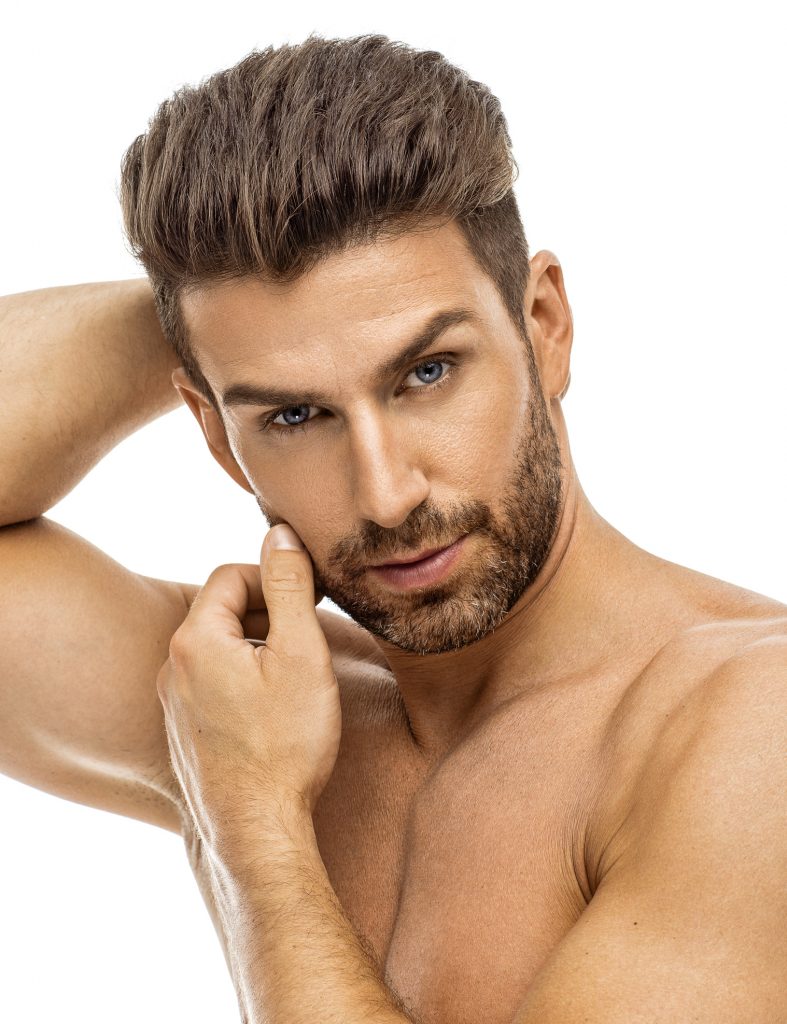 Fat Transfer for Men in Manhattan, NYC
If you'd like to get rid of fat in troublesome spots (such as the stomach or upper arms) but want more volume in other areas (such as the cheeks or face), a fat transfer by board-certified Manhattan plastic surgeon and general surgeon Richard W. Swift, Jr., M.D., F.A.C.S. could be the right choice to help bring more smoothness to your face.
What is Fat Transfer for Men?
Fat can be unsightly in some parts of a man's body, but it can actually enhance other areas. Fat transfer is a surgical technique in which cellular material is taken from where it is undesirable, such as the thighs, buttocks or upper arms, and moved to areas that can benefit from greater lift or volume, such as the cheeks or other parts of the face.
Benefits of Fat Transfer for Men
Many men who were dissatisfied with the shape of their bodies have found satisfaction with fat transfer. Those who have undergone the technique report greater self-confidence in the way they feel about their bodies. The satisfaction comes from an improved sense of body proportion and body image, leading to greater self-esteem.
Fat Transfer for Men Before and After the Procedure
Men who are considering a fat transfer are invited to browse through our catalog and see for themselves the many cosmetic procedures available from Dr. Swift. Since every patient has different needs, a careful consultation with Dr. Swift will be needed to guarantee the best results.
How is Fat Transfer for Men Performed?
The procedure is normally accomplished through the use of liposuction. This technique involves the introduction into the skin of a small tube that also employs a laser fiber. The fat cells are initially liquefied and suctioned out of the areas of the body where they are not needed and, after being purified, injected into areas where they can be beneficial. The entire procedure will be carried out while patient is under anesthesia.
Preparing for Fat Transfer for Men
Any man who is considering a fat transfer procedure should be at or near his desired weight and been stable in terms of his weight for some time. Although fat cells that are removed will not be naturally replaced, any weight gain that occurs after the procedure will be more obvious in the affected areas. The advantage of the fat transfer method is that it avoids the use of synthetic products that are not natural to the man's body.
Recovering from Fat Transfer for Men
Men who go through the procedure may experience swelling or tenderness in the area from where the fat has been extracted. There may also be bruising and swelling in the injected area that can last for a week or longer. Recovery may require time off from work and a period of refraining from normal activities, although the length of the recovery is largely dependent upon where both the extraction and injection take place. It might actually take the removal and transferal of a considerable quantity of fat to achieve the required volume and create the desired appearance of smoothness and elasticity.
Is Fat Transfer for Men Right for Me?
Men who want to improve their appearance but are leery of implants or dermal fillers should consider fat transfer. The procedure uses the body's own fat to help eliminate wrinkles and enhance contour and smoothness in areas where it is needed. Fat transfer is a natural way to deal with hollowed eyes and cheeks, thin lips or wrinkles, or the normal effects of aging. In addition to bringing a more youthful appearance to the face, fat transfer can improve the size and shape of the neck and chest areas, and even make the hands look fuller and more masculine.
How Much Does Fat Transfer for Men Cost?
Costs for your fat transfer will vary depending on the extent of surgery or the number of treatments needed to achieve your desired result. Most insurance plans do not cover plastic surgery or specific cosmetic treatments. Dr. Swift accepts payment via cash, check, or credit card, as well as Prosper Healthcare Lending as a financing option.
Why Choose Dr. Swift?
Board-certified plastic surgeon Richard W. Swift, Jr., M.D., F.A.C.S. provides a variety of cosmetic surgeries and treatments to help improve and enhance your natural beauty. A graduate of Yale and Brown University, Dr. Swift has earned prestigious awards for his vast medical expertise and experience. In addition to offering a wide range of cosmetic surgery options, Dr. Swift can also provide detailed consultations on surgical techniques, alternative treatments, and pre- and post-operative care. Throughout the process, his number one goal is to deliver personalized, high-quality, one-on-one care to ensure your complete comfort and satisfaction.
What to Expect During Your Consultation?
A fat transfer is no simple matter, and Dr. Swift will take the time to fully consult with you about the pros and cons of choosing a fat transfer versus other methods. He will answer all your questions and determine the best possible course of action for your unique needs. Dr. Swift understands that each patient has unique goals and expectations, and he strives to meet those expectations with every treatment he undertakes.
Fat transfer can give you much-needed volume in lackluster areas of your body while removing fat from unwanted places. Give yourself the look you've always wanted by contacting our Manhattan, NYC office today!